Toyota Adds Automatic Engine Shut Off and Automatic Park to 2020 Vehicles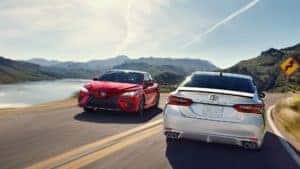 Toyota has announced that most 2020 model-year vehicles will feature two new innovative technologies: Automatic Engine Shut Off and Automatic Park. The addition of these features to its 2020 lineup demonstrate Toyota's commitment to having one of the freshest and most intelligent lineups in the business.
Automatic Engine Shut Off
Automatic Engine Shut Off works with the Smart Key System, automatically turning off the engine if the vehicle is left idling for too long. This helps reduce emissions and improves overall fuel economy. The new iteration includes improved audio and visual warnings. Toyota plans to expand Auto Shut Off so that you'll receive a reminder about automatic engine shut off via the Toyota smartphone app.
Automatic Park
Automatic Park helps cut down on the risk of roll-away by automatically shifting your Toyota into park or applying the electronic parking brake if you exit the vehicle without placing it in park manually. This feature will be offered in vehicles with electronic shifting and parking brakes and is yet another way that Toyota strives to keep you safer.
Toyota has not yet specified which 2020 vehicles will receive Automatic Engine Shut Off and Automatic Park, but once we know, you'll know. To learn more about what Toyota has come down the pike, stop into %%di-name%%.