New Toyota RAV4 Commercials Promote America's Best-Selling SUV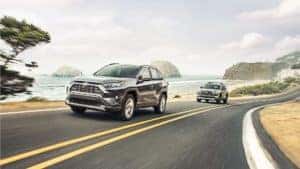 Start spreading the news: The Toyota RAV4 is the best-selling SUV in the United States and the best-selling vehicle in the Toyota lineup. Eclipsing even the mighty Toyota Camry and Toyota Corolla in sales, the RAV4 is all-new for 2019 and the subject of exciting new Toyota RAV4 commercials.
A trio of new commercials for the 2019 RAV4 builds on the simple question, "what if?" In "Bring the Heat," a quartet of hip young people head out for an adventure where the goal is seeming to eat the hottest food possible. In "Hooked," a dad keeps leading himself further into a fishing adventure worth remembering. And in "Missed It," a simple date keeps getting "what if-ed" into a longer commitment. All of this builds on the idea that the RAV4 is the ideal vehicle for going places you'd never thought possible.
"RAV4 really has the ability to go from city exploration to off-road adventures," Cynthia Tenhouse, vice president of Toyota vehicle marketing and communications, told Forbes', Dale Buss. "You can do anything in this vehicle. So for young [urbanites], it's a great vehicle, with great versatility. So with this campaign we kind of highlighted the idea of 'what if?' and that whatever it is you wanted to do, the RAV4 will take you there."
The all-new 2019 Toyota RAV4 is available at Wondries Toyota.