New i-ROAD and iQ EV Tease Future of Toyota Electric Vehicles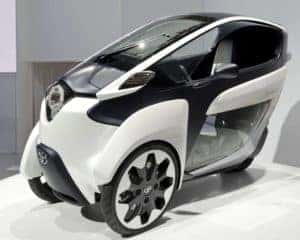 For over two decades now, Toyota has been a leader in sustainability, producing some of the most popular hybrid vehicles in the world. Toyota is looking to extend sustainable leadership with new electric vehicles, which will stem from two exciting concepts.
Toyota i-ROAD Concept
The Toyota i-ROAD concept is essentially a combination of a motorbike and a car. It is only 34 inches wide and can only carry one passenger. This makes it an ideal solution for congested city streets and as a last-mile mobility solution. The i-ROAD takes what many people like about a motorbike — its small size and maneuverability — but adds the convenience of a car — not needing a helmet and being able to drive in all weather conditions. It comes with a unique three-wheeled design that balances and leans through corners.
iQ EV
For drivers who need more space for passengers, Toyota is also developing the iQ EV. This compact electric car offers enough space for up to four adults. It only takes up about half the space of the average car, making it much easier to park and drive in narrow city streets. While Toyota has not set a specific release date for either of these models, the company has said that it plans to offer "electrified" versions of its complete lineup by 2025. This will include hybrids, fuel-cells, and electric models. To see what the future holds, stop into Wondries Toyota.