Fall Tire Maintenance Tips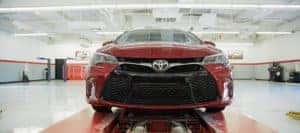 Even though it tends to stay warm during the fall here in California, we should still take the opportunity of the changing season to remind ourselves to get routine auto maintenance done. This holds especially true for our tires, which can all-too-easily be neglected until it's too late.
Tire Tread
One thing you want to keep an eye out for is low tire tread, which worsens traction and can make it harder for you to stop on wet roads. You can conduct the penny test to ensure that you have an adequate amount of tread, or you can bring your vehicle into Wondries Toyota and we will let you know how it's looking.
Inspect Your Tires
Bald tires aren't your only concern. While you're checking the tread, inspect the tires and look for bulging, cracks, leaks, or other signs that suggest you should get new tires. These are indications of potentially significant issues and should under no circumstances go ignored.
Rotation & Balance
You should also have your tires rotated and balanced. Rotating tires, or switching which wheel each tire is on, helps ensure even wear so that your tires last longer. Proper rotation can even help improve your fuel economy. Balancing, or making sure the tires are all the same weight, also gives you better mileage and ensures that you are drive straighter.
Tire Pressure
Finally, keep an eye on your tire pressure. Even without major fluctuations in temperature, the pressure in your tires will drop over time. Testing the pressure regularly can even help you identify leaks or other concerns.
If you want your tires diagnosed, or if you have other fall vehicle maintenance needs you want to be addressed, look no further than Wondries Toyota.